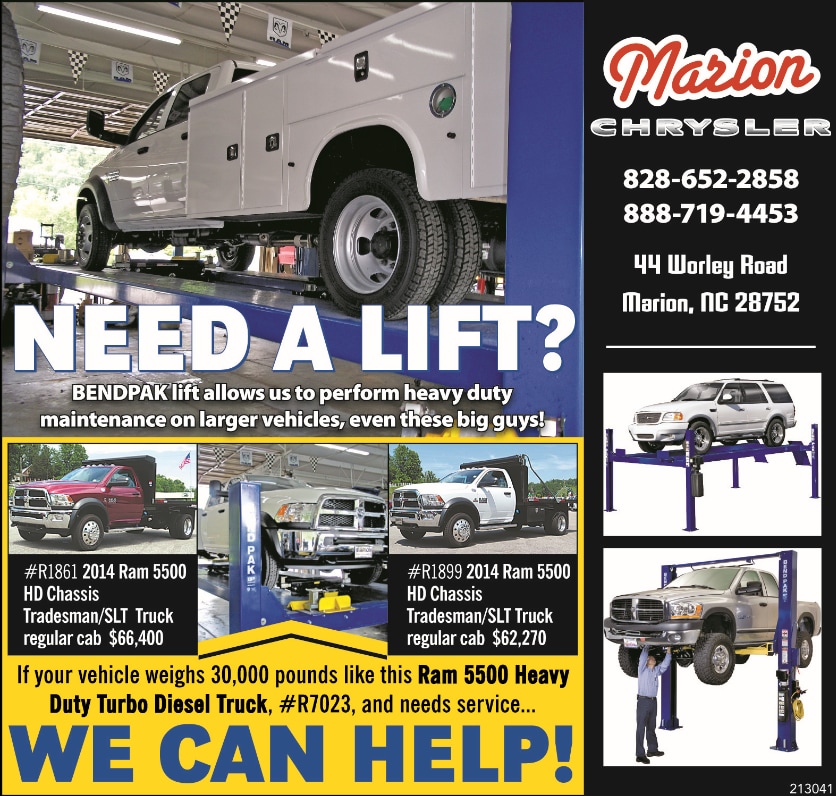 Marion's Home for Heavy Duty Truck Repair
If you're a business owner or commercial truck driver from Marion, Asheville, Morganton or Lenoir, you know there is no time that you can afford to have your fleet of vehicles shorthanded or in need of repair. Breakdowns, tire deflations, smoking engines, and screeching brakes - any one of these problems can keep one or several of your hardworking fleet of commercial vehicles off the road. The Marion Chrysler Jeep Dodge Ram team knows that to keep your clients happy, you need your vehicles to be in the best shape possible. And we're here to help.
Our experienced team specializes in everything from Commercial Engine Repair to  Heavy Truck Alignments. The commercial-grade lifts at our commercial truck shop are capable of hoisting even the biggest rig in your commercial fleet, allowing us to thoroughly inspect and repair semi-tractors, RV's and more.
Contact us today and tell what your fleet of vehicles needs or stop by our Commercial Truck service center to meet our team. At Marion Chrysler Jeep Dodge Ram - our commercial truck repair team shares your goal: avoiding interruptions, creating satisfied clients, and maintaining fleet that's as dependable and hardworking as you.